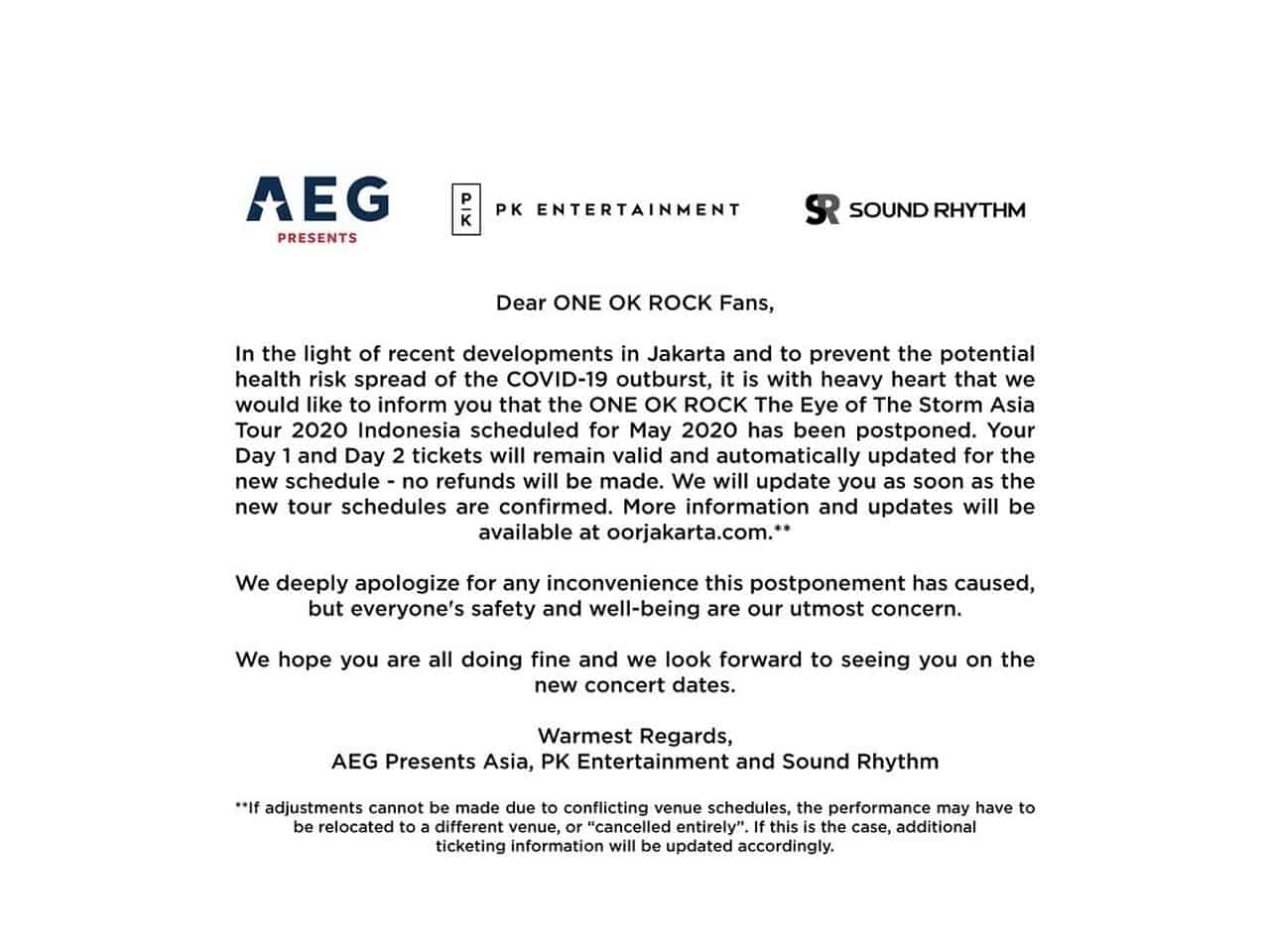 Konser grup band rock asal Jepang ONE OK ROCK yang semula akan digelar selama dua hari yakni pada tanggal 30 – 31 Mei 2020 di Istora Senayan, Jakarta, resmi ditunda.
Kabar itu diumumkan langsung oleh promotor konser ONE OK ROCK di Jakarta, AEG Presents Asia, PK Entertainment, dan Sound Rhythm, melalui unggahan di akun Instagram mereka, Selasa (17/3/2020). Hal itu dilakukan demi mengurangi potensi penyebaran wabah virus corona atau COVID-19.
"Sehubungan dengan perkembangan berita terkini di Jakarta dan untuk ikut serta mengurangi potensi penyebaran wabah Covid-19, dengan berat hati kami mengabarkan konser ONE OK ROCK - THE EYE OF THE STORM ASIA TOUR 2020 INDONESIA secara resmi harus ditunda dan dijadwalkan ulang di waktu yang akan datang," tulis pernyataan pihak promotor.
"Kami mohon maaf atas penundaan ini. Adapun pertimbangan terpenting yang kami utamakan adalah keselamatan dan kesehatan seluruh penonton konser ONE OK ROCK di Indonesia," sambung pihak promotor.
Nantinya, tiket konser yang sudah dibeli tetap akan berlaku. Sejauh ini, promotor tidak akan mengadakan proses refund atau pengembalian tiket. Semua informasi mengenai jadwal konser ONE OK ROCK akan diinformasikan melalui situs resmi di oorjakarta.com.
ONE OK ROCK - THE EYE OF THE STORM ASIA TOUR 2020 INDONESIA akan menjadi konser kedua band beranggotakan Takahiro Moriuchi, Toru Yamashita, Ryota Kohama dan Tomoya Kanji di Indonesia. ONE OK ROCK pertama kali menggelar konser solo di Indonesia pada 24 November 2013 di Lapangan Parkir Kolam Renang, Senayan.
Top picture source: Instagram @pkentertainment.id