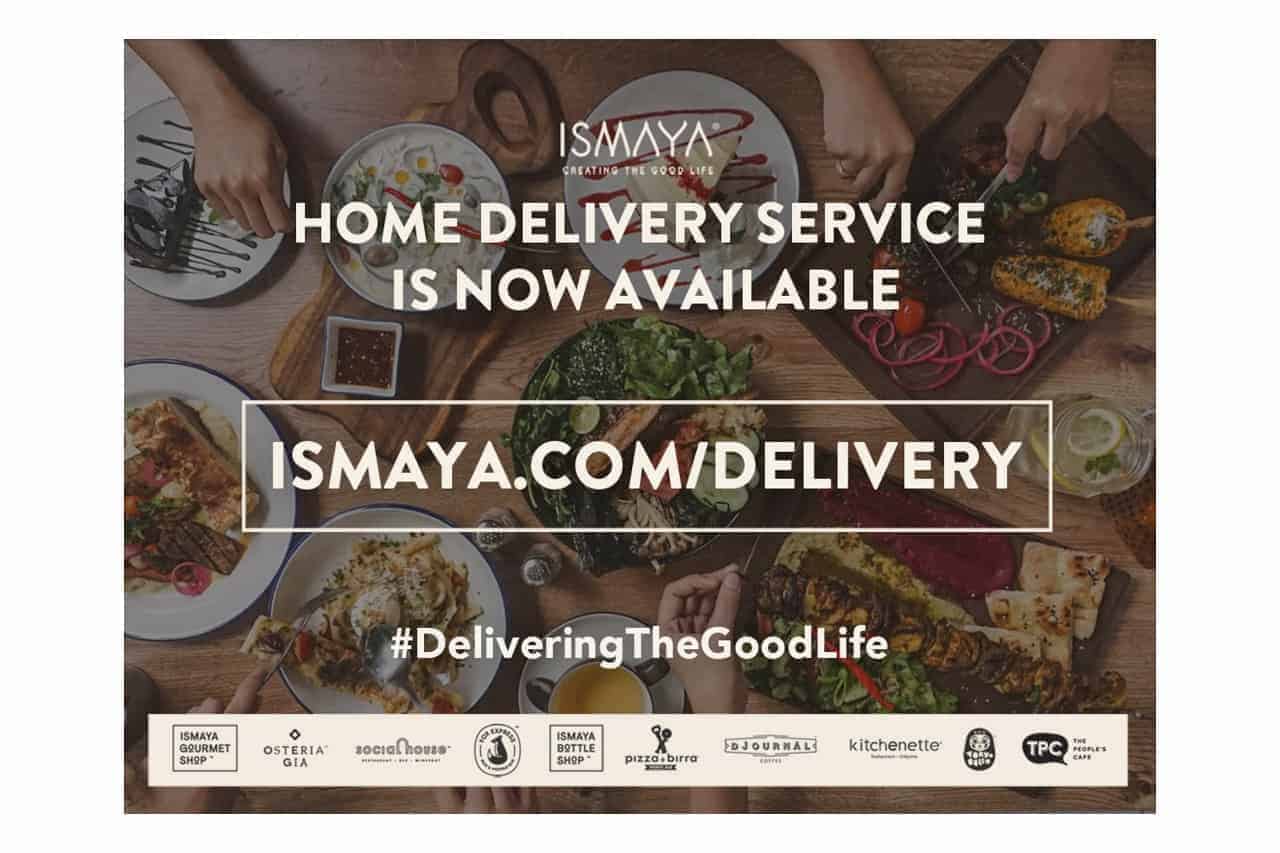 Platform dan perusahaan lifestyle, Ismaya Group merupakan salah satu perusahaan hospitality yang untuk sementara waktu menutup semua gerai operasionalnya guna mendukung peraturan pemerintah dan membantu melawan penyebaran COVID-19. Kini, Ismaya Group kembali hadir melayani pelanggan mereka yang #dirumahaja.
Ismaya Group meluncurkan layanan "at-home experience" yang menyajikan hidangan, minuman, dan bahan pangan langsung ke pintu pelanggan. Tujuannya untuk mengumpulkan dana demi upaya kesejahteraan karyawan mereka selama pandemi ini berlangsung. Semua pembelian akan membantu menyokong karyawan Ismaya selama masa-masa sulit ini.
Warga Jakarta yang merindukan brand-brand dari Ismaya sekarang dapat memesan makanan dan minuman lezatnya kembali dengan harga terjangkau melalui platform pengiriman makanan seperti GoFood dan Hotline WhatsApp Ismaya.
Brand Ismaya yang saat ini menyediakan layanan home delivery adalah Djournal Coffee, Kitchenette, The People's Cafe (TPC), Tokyo Belly, Pizza e Birra, Social House, Osteria Gia, dan juga brand baru Fox Express yang merupakan kedai aneka nasi dan mie yang dirancang khusus untuk era ini. Menu akan terus diperbarui dengan menggunakan cita rasa yang sangat khas dari Ismaya.
Ismaya juga akan bermitra dengan dapur cloud bersertifikat HACCP dari Yummy Kitchen untuk meluncurkan serangkaian brand Express baru yang meliputi: TPC Express, Tokyo Belly Express, Pizza e Birra Express, dan brand-brand baru: Kopi Batavia by Djournal Coffee dan Djamu Djamu by Djournal Coffee.
Kini, semua pelanggan pun dapat creating the good life dari rumah melalui Ismaya Gourmet Shop dan Ismaya Bottle Shop. Di kedua toko tersebut, pelanggan dapat menemukan berbagai pilihan daging premium, keju, rempah-rempah, anggur & minuman beralkohol terbaik, bir, dan bahan spesial yang sulit ditemukan.
Selama jangka waktu yang terbatas, pelanggan dapat menemukan produk berkualitas dengan diskon hingga 80%. Ismaya Gourmet Shop dan Ismaya Bottle Shop tersedia baik di Tokopedia maupun melalui Whatsapp.
Osteria Gia, Social House & Fox Express Food Delivery
GoFood | Whatsapp Hotline: +62 813 9871 9336 | Monday – Saturday: 11.00 – 20.00 
Djournal Coffee, Kitchenette, The People's Cafe, Tokyo Belly, Pizza E Birra Food Delivery
GoFood | Whatsapp Hotline: +62 813 9871 9345 | Monday – Saturday: 11.00 – 20.00
Ismaya Gourmet Shop
Tokopedia: Ismaya Gourmet Shop | Whatsapp Hotline: +62 813 9871 9345 | Monday – Saturday: 11.00 – 20.00
Ismaya Bottle Shop
Tokopedia: Ismaya Bottle Shop | Whatsapp Hotline: +62 813 9871 9344 | Monday – Saturday: 12.00 – 22.00