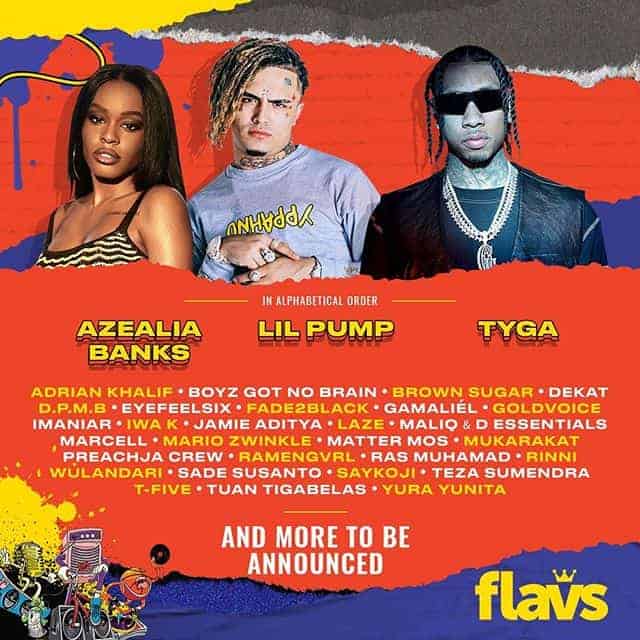 FLAVS is a hip hop, soul, and R&B music festival which is ready to spoil any hip hop enthusiast. This event which was originally to be held on April 4 – 5 2020 at Istora Senayan, Jakarta was postponed to August 8 – 9, 2020 due to COVID-19 outbreak.
This pioneer or urban festival was carried out by famous promoter, Dyandra Promosindo. On the official website of FLAVS, you can see announcement of first, second, and third phases of performers including Fade2Black, Iwa K, Maliq & D'Essentials, T-Five, Ras Muhammad, Tuan Tigabelas, Adrian Khalif, Matter Mos, Gamaliel, Near, Imaniar, RAMENGVRL, Teza Sumendra, Yura Yunita, Souljah, Saykoji, Marcell, NEO, Jemima also Glenn Fredly.
Along with those Indonesian best performers, FLAVS also brought best international performers, Tyga, Harry Mack, Azelia Banks and Lil Pump. The early bird ticket for Rp1.300.000 sould out but presale still available for Rp1.500.000 and general admission for Rp1.700.000 (2 day pass).
FLAVS also featuring a lot of hip hop communities you can see at Downtown Cypher Area with beatbox, freestyle rapper, breakdance, streetballers, skateboard & BMX riders, DJ showcase and live graffiti performances. Click here for further information and purchasing tickets of FLAVS 2020!
Tags