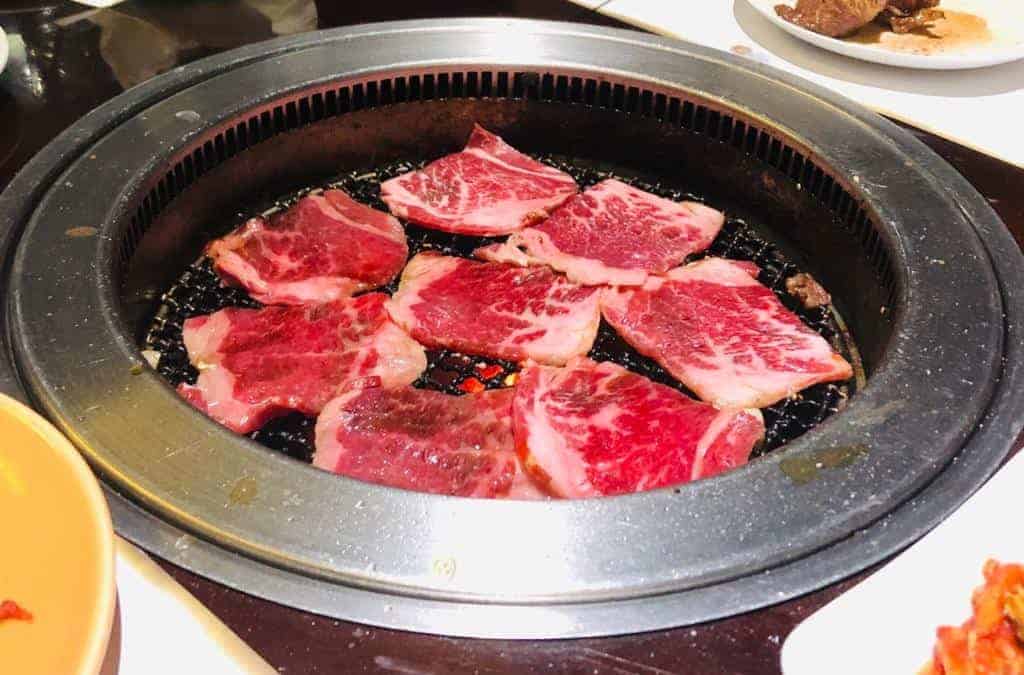 Dari sekian banyak restoran yang menawarkan konsep barberkyu, mungkin hanya The Yakinikuya yang memiliki suasana berbeda, mirip seperti restoran barbekyu di Ginza, Tokyo. Memasuki 'BBQ Garden' milik The Yakinikuya yang berlokasi di basement Dharmawangsa Square, Anda akan menjumpai ruangan yang tidak terlalu besar berhias kayu di berbagai sudut, dan kolam ikan kecil tepat di meja penerima tamu.
photo source: CheckInJakarta.doc
Delapan meja yang disediakan, masing-masing bisa ditempati maksimal empat orang, yang menambah kesan intimate selama bersantap. Oleh sebab itu, restoran all you can eat ini menyediakan dua sesi, yakni pukul 11 siang sampai 3 sore dan pukul 6 sore hingga 10 malam.
photo source: CheckInJakarta.doc
The Yakinikuya menyediakan empat paket, yakni Standard Yakiniku, Special Yakiniku, Premium Yakiniku dan Ultima Yakiniku dengan potongan daging dan boga bahari segar, terbaik, dan didatangkan langsung dari Jepang. Soal harga, tidak perlu takut, meski menggunakan bahan-bahan terbaik, restoran barbekyu ini membanderol menu Yakiniku-nya mulai dari Rp188.000 per orang.
photo source: CheckInJakarta.doc
Setiap pengunjung yang datang diberi waktu selama dua jam untuk menikmati berbagai potongan daging sesuai paket yang dipilih. Ada tiga macam saus yang disajikan, soy sauce, miso sauce, dan salt & pepper. The Yakinikuya juga menyediakan menu a la carte sebagai teman bersantap daging-daging lezat pilihan Anda. Mulai dari salad, soup, Teishoku hingga donburi & noodles. Mengingat tempatnya yang terbatas dan selalu ramai pengunjung, baik saat makan siang maupun malam, Anda wajib melakukan reservasi sebelum datang melalui tautan berikut ini.
Tags