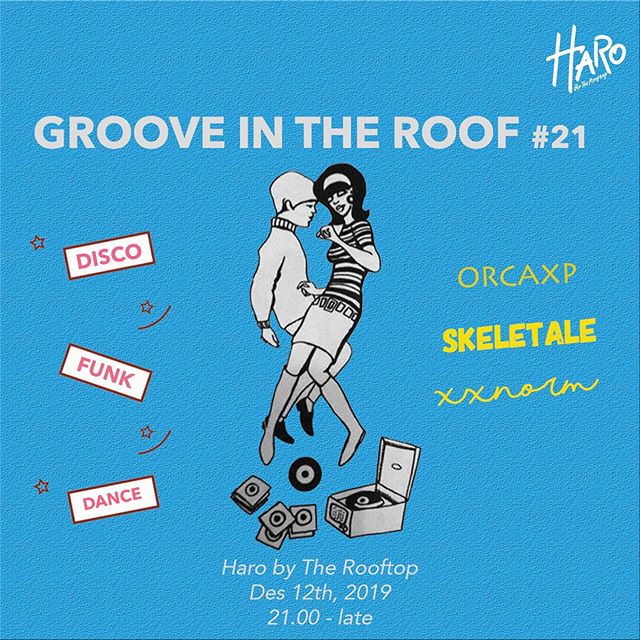 Diperkenalkan kembali dengan nama baru, HARO by The Rooftop, bar sekaligus ruang alternatif bagi musisi-musisi independen ini wajib Anda kunjungi akhir pekan nanti. Sebelumnya, bar ini dikenal dengan nama Mondo by The Rooftop, yang didirikan oleh dua orang Jepang bernama Shunsuke Izumimoto dan Tomoko Nishikawa. Setelah keduanya kembali ke negara asal mereka, tempat ini lalu diambil alih oleh partner lokal dan diubah namanya menjadi HARO by The Rooftop.
photo source: https://www.instagram.com/poto_pot/
Kemeriahan bar yang berlokasi di sebuah rooftop, tepatnya di lantai 4 gedung Rossi Mu
sik di bilangan Fatmawati ini berlangsung hampir setiap malam. Meski sudah berganti nama, namun suasananya masih sama, di mana DJ, band, komunitas-komunitas kreatif dan penikmatnya dapat bercengkrama satu sama lain.
photo source: https://www.instagram.com/poto_pot/
Groove in The Roof yang sudah mencapai volume 21 sejak re-branding menjadi bukti bahwa HARO by The Rooftop senantiasa menjaga kualitasnya untuk memanjakan penikmat musik disko, funk, dan dance. Yuk, follow HARO by The Rooftop di sini agar tak ketinggalan acara-acara menarik menjelang pergantian tahun!
Top photo source: https://www.instagram.com/haro_jkt/?hl=en