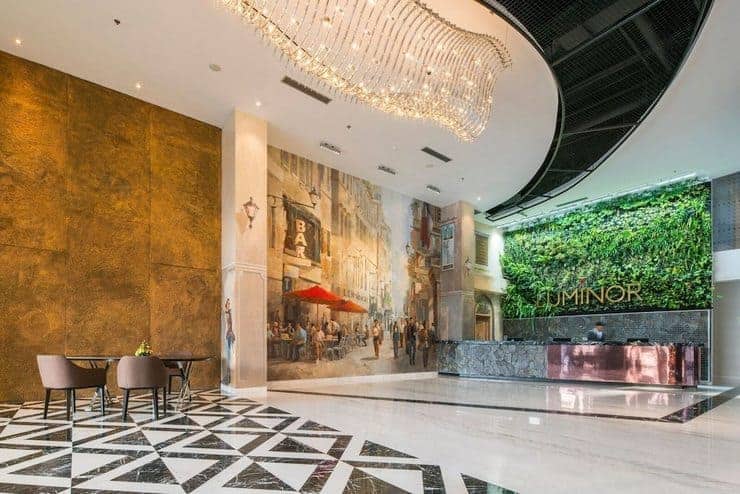 Luminor Hotel merupakan jaringan hotel butik bintang 4 yang tak hanya tersebar di Jakarta, namun juga di beberapa kota besar lain seperti Surabaya, Sidoarjo, Jember, Banyuwangi dan Jambi.
photo source: https://www.booking.com/
Tak hanya ideal untuk pelancong saja, Luminor Hotel juga cocok dipilih pebisnis karena fasilitasnya yang lengkap. Salah satunya adalah Luminor Hotel di Jl. Pecenongan No. 35, Jakarta Pusat.
photo source: https://www.agoda.com/

Hotel butik ini memiliki ruang pertemuan yang didesain senyaman mungkin untuk mengakomodasi kebutuhan Anda selama melakukan perjalanan bisnis di Jakarta. Ditambah koneksi Wi-Fi berkecapatan tinggi dan aman, Anda bisa terhubung dengan dunia digital kapanpun Anda butuhkan.
photo source: https://www.pegipegi.com/
Berbicara mengenai fasilitas, Luminor sepertinya tidak ingin setengah-setengah memastikan keaman, kepuasan, dan kenyamanan Anda selama menginap. Terbukti dengan tersedianya kamar-kamar elegan seluas 23 – 56m2 dengan desain minimalis modern dan dilengkapi TV dan saluran internasional, koneksi Wi-Fi, kamar mandi pribadi dengan hot shower dan perlengkapan mandi gratis, lemari penyimpanan, meja kerja, telepon dengan sambungan internasional, sofa dan meja makan khusus untuk Suite Room.
photo source: https://www.almosafer.com/en
Seperti paket lengkap, tanpa harus melangkahkan kaki keluar hotel, Anda bisa mencicipi ragam makanan tradisional lezat cukup dengan mengunjungi ROCK'N SUGAR yang buka 24 jam non-stop lengkap dengan kedai kopi yang menyajikan kopi pilihan menggunakan biji kopi asli Indonesia. Are you ready book your room and end the stressful day after work?
Top photo source: https://www.pegipegi.com/
Tags