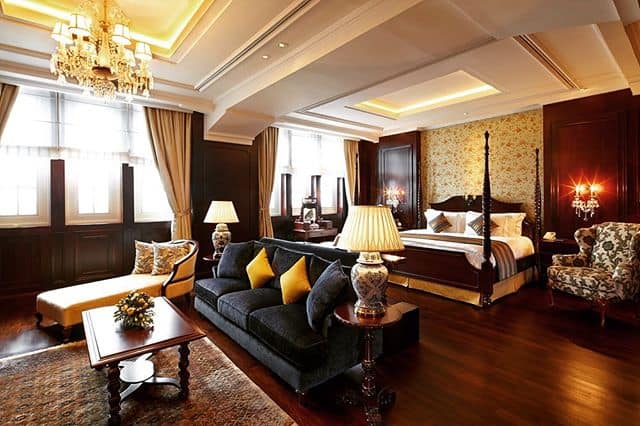 The Hermitage which located in one of prestigious districts in Jakarta, Menteng, is the first hotel portfolio in Southeast Asia. The building itself will certainly be a focal point of this stay. Before used as a tribute portfolio hotel, this building changed its function several times.
Started from telecommunication office, the office of Central Indonesian National Committee Workers (from Jakarta.go.id), the Ministry of Education and Teaching in 1950, the office of Directorate General of Culture in 1968 – 1996, the lecture hall after being renovated by Bung Karno University Foundation in 1999 then officially operates for public in mid-2014 as a hotel.
photo source: https://www.instagram.com/thehermitagejkt/
This tribute portfolio hotel is different from other hotels. The Hermitage included in a group of independent hotels which differ from other hotels, where they are not regulated in a specific format as other hotels.
photo source: https://www.instagram.com/thehermitagejkt/
Not all hotels can be included in part of tribute portfolio hotel, it simply because a series of security criteria, concepts, designs and hotel backgrounds are main points to be considered whether that hotel can be included or not.
photo source: https://www.instagram.com/thehermitagejkt/
To enhance art deco style of main building, The Hermitage designed every corner of its building including 90 rooms and various facilities hotel such as swimming pool on the 9th floor, fitness center, La Vue Bar in rooftop area with slick style look harmonious with one another including photos of documentations, from President of Republic of Indonesia, colonial buildings to replica of Batavia floor plan on the walls.
photo source: https://www.instagram.com/thehermitagejkt/
Therefore, it is not surprising that The Hermitage looks like a unique contrast between modern facilities exist in historic building. The Hermitage also offering six different types of rooms, Superior Room, Deluxe Room, Executive Room, Junior Suite Room, Executive Suite Room and Presidential Suite Room which starts from US$3,800++.
From Sudirman district with various world-class shopping centers, The Hermitage only 8 minute drive, while from antique art market, Jalan Surabaya and Cikini station are only 7 minute walk. Needless to say, The Hermitage is chosen by many tourists who want to reminisce with history while doing various business and leisure activities in the heart of Jakarta.