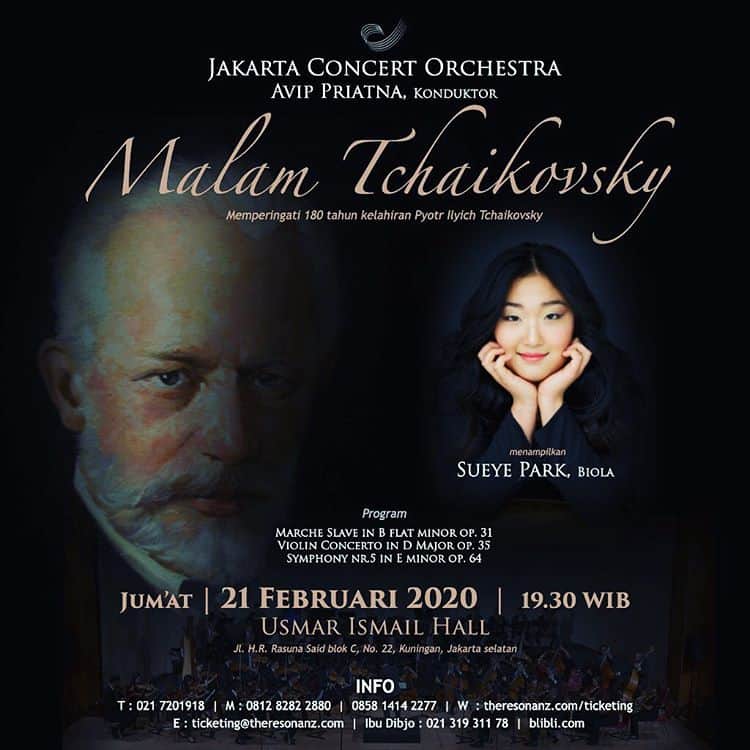 Celebrating 180 years of birth day of the world's leading composer ever, Pyotr Ilyich Tchaikovsky, Jakarta Concert Orchestra (JCO) with Indonesia best conductor, Avip Priatna Mag.Art will perform Violin Concerto in D major, Op. 35 which one of the best of Tchaikovsky's works made in 1878 and listed as one of the best violin concerto in the world, ever.
Jakarta Concert Orchestra will also play other works of Tchaikovsky such as Symphony Nr. 5 in E Minor Op. 64 and Marche Salve in B flat minor Op. 31 with a talented young violist from South Korea, Sueye Park (20 years old).
Jakarta Concert Orchestra will share an unforgettable experience for classical music enthusiasts on February 21, 2020 at Usmar Ismail Hall, Gama Tower, Kuningan. Click here to find out more information about Tchaikovsky Night by Jakarta Concert Orchestra with Avip Priatna.
Tags