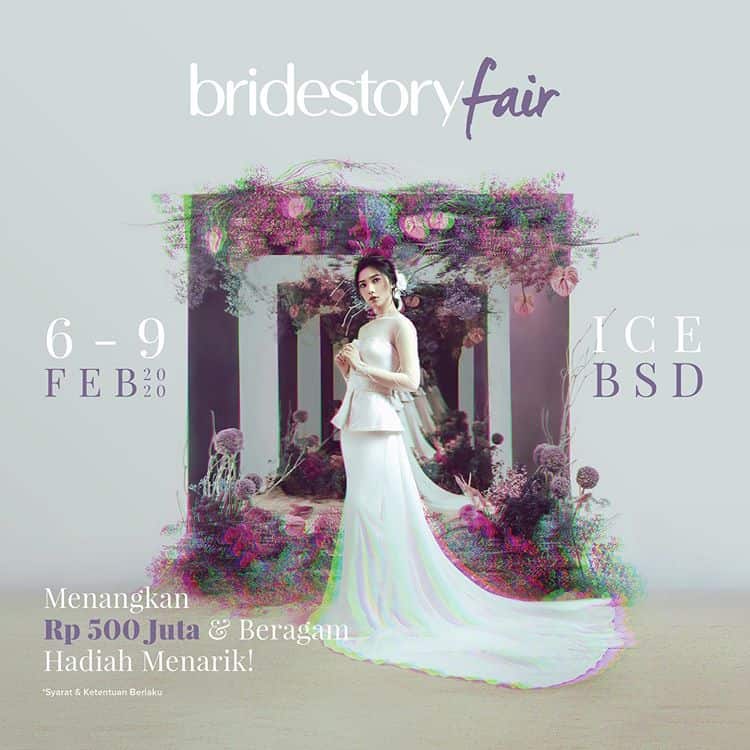 Hadir kembali dengan konsep yang lebih fresh, Bridestory Fair 2020 diselenggarakan mulai 6 – 9 Februari 2020 bertempat di Hall 2, 3, dan 3A ICE BSD City. Mengusung tema "Reflections of the Sea" yang akan menjadi tren pernikahan di tahun 2020 ini, segala kebutuhan pernikahan yang disajikan di sini mencerminkan (warna-warna) kekayaan alam dan biota bawah laut dan disajikan secara modern, elegan, dan kontemporer.
Acara yang berlangsung selama empat hari ini menyediakan segala kebutuhan pernikahan mulai dari venue sampai souvenir. 400 vendor pernikahan dari 20 kategori akan hadir guna memberikan referensi terbaik untuk Anda dan pasangan.
Anda juga bisa mendapatkan kesempatan memenangkan cashback dengan total Rp500.000.000 dengan melakukan transaksi menggunakan Bridestory Pay. Keuntungan lain yang bisa Anda dapatkan dengan menggunakan Bridestory Pay antara lain cicilan kartu kredit 0% hingga 24 bulan (untuk 15 bank ternama yang bekerja sama) dan bisa bertransaksi menggunakan lebih dari 30 metode pembayaran.
Tahun ini, Bridestory Fair juga berkolaborasi dengan Market & Museum untuk memanjakan Anda dengan beragam makanan dan minuman lezat selama berburu vendor, dan Tokopedia Fair dengan menghadirkan lebih dari 90 brand terpilih, mulai dari fashion, home & living, kecantikan dan kategori menarik lainnya.
Menariknya lagi, Bridestory Fair 2020 juga akan diramaikan oleh Parentstory Fair yang menghadirkan lebih dari 200 aktivitas edukatif di atas area taman yang disulap sebagai tempat bermain sekaligus instalasi menarik bertemakan A Day at the Beach.
Untuk tiket masuk tidak perlu mengeluarkan biaya sepeser pun alias gratis! Cukup mengunduh aplikasi Bridestory melalui Play Store atau App Store. Mark your calendar and download the application now!
Tags