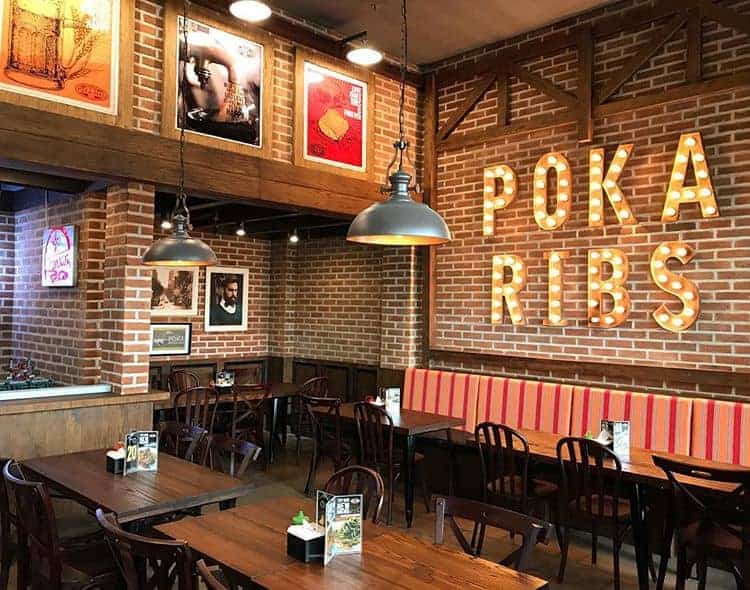 Selain steak, iga sapi juga cocok disantap dengan segelas bir dingin favorit Anda untuk makan malam yang menyenangkan. Satu lagi tempat di Summarecon Mall Serpong yang menyajikan beragam bir dingin lokal maupun impor dengan makanan pendamping berupa iga bakar. Bukan sembarang iga, melainkan iga dengan porsi besar yang bisa dinikmati dua sampai tiga orang.
Tidak mengherankan jika sepanjang akhir pekan, Poka Ribs selalu terlihat ramai pengunjung. Mulai dari yang datang bersama keluarga, teman maupun pasangan, terlihat memadati tempat ini. Tempatnya memang tidak terlalu besar, namun Poka Ribs memiliki outdoor seat khusus bagi perokok.
photo source: https://www.instagram.com/pokaribs/
Yang menjadi andalan di sini adalah Baby Back Ribs, potongan iga bakar dengan daging yang lumayan tebal dan tidak terlalu berminyak disajikan dengan Poka sauce dengan cita rasa asin dan manis, kentang goreng dan salad. Baby Back Ribs ini bisa dinikmati dua orang karena porsinya cukup besar.
photo source: https://www.instagram.com/pokaribs/
Ada juga Pork Knuckle Poka Ribs yang dibanderol seharga Rp230.000, cocok untuk menikmati bir pilihan Anda. Ingin mencicipi menu selain iga? Ada menu baru yakni Baby Chicken Poka Ribs, all time fave Poka Satay Bali, dan Creamy Mushroom Fettuccine.
photo source: https://www.instagram.com/pokaribs/
Untuk pilihan birnya, Poka Ribs menyajikan Anker, Prost, Bali Hai, Bintang, San Miguel, El Diablo, Heineken, Carlsberg, Corona, Singha, Smirnoff dan Soju aneka rasa dengan kisaran harga Rp20.000 – Rp270.000.
Poka Ribs buka setiap hari mulai pukul 10 pagi sampai 12 malam di hari Minggu – Kamis, 10 pagi sampai 2 dini hari di hari Jumat, dan 10 pagi hingga 3 dini hari di hari Sabtu. Have your best price beers and tasty ribs here!