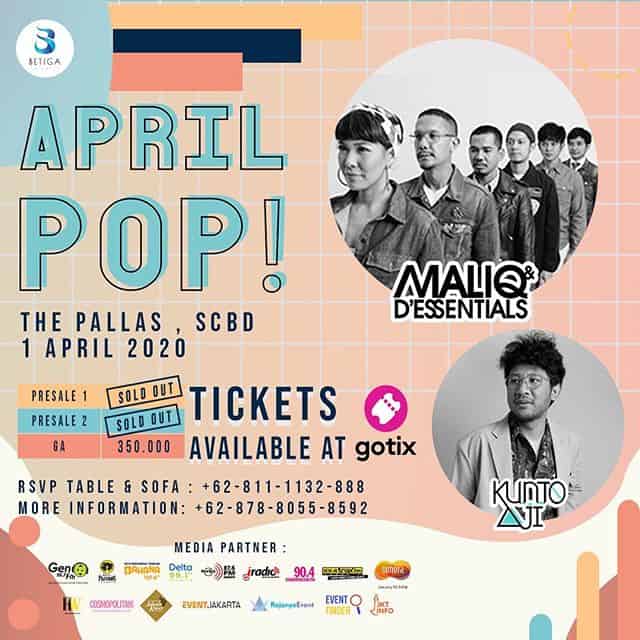 Kabar gembira bagi penggemar Kunto Aji dan kebetulan tidak sempat menyaksikan Mantra Mantra Live++ yang diadakan 18 Desember lalu. AprilPop!, konser musik yang rencananya diadakan 1 April mendatang di The Pallas SCBD ini tidak hanya menghadirkan Kunto Aji namun juga Maliq & D'Essentials.
Keduanya diketahui meraih penghargaan pada acara Anugerah Musik Indonesia (AMI Awards). Kunto Aji berhasil mendapatkan penghargaan Album Terbaik untuk Mantra Mantra dan Artis Solo Pria terbaik lewat lagu Topik Semalam. Sementara Maliq & D'Essentials berhasil menyabet tiga penghargaan, yakni Album Jazz Terbaik lewat album Free Your Mind (2008), Duo/Grup Urban Terbaik lewat lagu Setapak Sriwedari (2014), dan Karya Produksi Urban Terbaik lewat lagi Aurora (2015).
Jadi, tidak ada alasan untuk melewatkan penampilan ciamik dari Kunto Aji dan Maliq & D'Essentials, bukan? Untuk informasi ketersediaan (sisa) tiket bisa dilihat melalui akun resmi AprilPop! atau langsung beli tiketnya di Gotix dengan harga regular Rp350.000 (berakhir 1 April 2020). Book your ticket now and sing out loud with Kunto Aji and Maliq & D'Essentials!