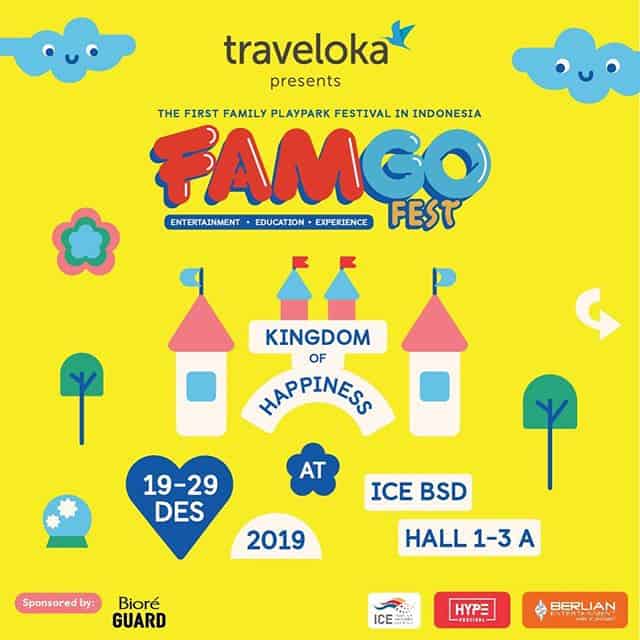 Suksesnya FamGoFest, the first family playpark festival in Indonesia tahun 2018 membawa kembali festival yang dapat dinikmati oleh seluruh anggota keluarga ini. Didukung penuh oleh Indonesia Convention Exhibition (ICE), Traveloka bekerjasama dengan Berlian Entertainment dan Hype Festival menghadirkan FamGoFest 2019.
Tahun ini, FamGoFest akan diselenggarakan selama 11 hari berturut-turut, mulai tanggal 19 – 29 Desember dan bertempat di Hall 1, 2, 3 dan 3A ICE, BSD City, Tangerang. Mengusung tema "Kingdom of Happiness", FamGoFest 2019 mengajak Anda sekeluarga untuk bermain dan berpetualang di "negeri yang penuh imajinasi".
FamGoFest 2019 juga tidak lupa menerapkan unsur education, experience, dan entertainment di setiap aktifitas yang disediakan. Masing-masing aktifitas disesuaikan dengan kategori usia agar pengunjung dapat menikmati waktu berkualitas untuk belajar, bermain sekaligus berinteraksi.
Mewakili unsur entertainment, di fase pertama, ada penampilan spesial dari Tayo the Little Bus, Bandanamu, Robocar Poli dan LATOMOCI, Lulu, Amu, Tora, Momo dan Cibi sebagai maskot FamGoFest yang mengajak Anda sekeluarga untuk bernyanyi, menari, dan menikmati berbagai permaianan seru.
Sementara untuk unsur education, FamGoFest 2019 menyiapkan berbagai kegiatan menarik yang bisa diikuti seluruh anggota keluarga. Terdiri dari tiga kategori workshop, Fairy Floss, Peek a Boo, dan Caramelle Craft, Anda sekeluarga bisa menemukan berbagai macam kelas menarik untuk mengasah kreativitas seperti membuat slime, membuat playdough, menghias laying-layang dan masih banyak lagi.
Terakhir, untuk unsur experience, FamGoFest 2019 akan memanjakan Anda dengan VR games, Giant Playpark, Bouncing Castle, AR games dan pengalaman seru lain yang tidak dapat dilupakan. Klik di sini untuk mendapatkan tiket sekarang dan nikmati liburan tak terlupakan bersama kelurga tercinta!